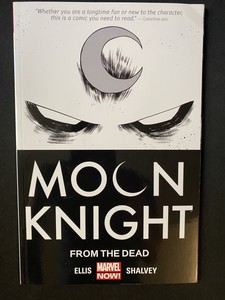 Follow the self-published indie book THE FRINGE KNIGHT by Daniel Doing for all the adventures of Erie's own super hero!
EPISODE 193:
High Priest of Khonshu Rey returns with very special guest, Spector-level Patroony Daniel Doing for a chat about a very popular Moon Knight Arc –
PHASE OF THE MOON: Last Quarter
SEGMENT: OVER THE MOON
Moon Knight Vol. 7 # 1-6: FROM THE DEAD
Released May 2014 – September 2015
This series never gets old, and Daniel breathes new conversation in the six-issue run that we all know and love!
Shine those idols, and dust off the cape….IT'S TIME TO GET YOUR KHONSHU ON!
SHOW NOTES:
WHERE TO HEAR US:
DROP US A LINE:
CHECK OUT THESE OTHER SHOWS I CO-HOST!
The Last Sons of Krypton: A Superman Podcast
Capes & Lunatics Sidekicks: An Ultimate Spider-Cast – Scarlet Spider!
To Know Her Is To Fear Her: The Spider-Woman Podcast
OFFICIAL ITK MERCHANDISE @ TEE PUBLIC – BUY HERE!
SPONSORS:
THE FRINGE KNIGHT by Daniel Doing
The Fringe Knight – Shop at Indy Planet
Hello Headphones | www.HelloHPS.com
Use the code 'ITKMOONKNIGHT' to get 10% off all purchases!
Dreamland Comics – the Super Hero Super Store!
Use the code 'MOON' to get 20% off all purchases!
AFFILIATE SPONSORS:
Purchase your figures through our link to Entertainment Earth and help support the show!
CREDITS:
ITK Logo Graphic Design by
The High Priests of Khonshu
ITK Graphic Design produced and assisted by
ITK Opening Sequence for video by
Chris Kelly
Music Written, Performed and generously provided by
Co-Producers
Wayne Hunt
Josh Johnson
James Young
Anthony Sytko
Jordan Hegarty
Russell Moran
Executive Producers
Justin Osgood
Derek O'Neill
Daniel Doing
Produced by
Reynaldo Gesmundo
Proud Member of The Collective
The music for this episode contains excerpts from various songs and music copyrighted by Deleter and Brian Warshaw. The music agreed for use on Into the Knight – A Moon Knight Podcast is licensed under an Attribution License;