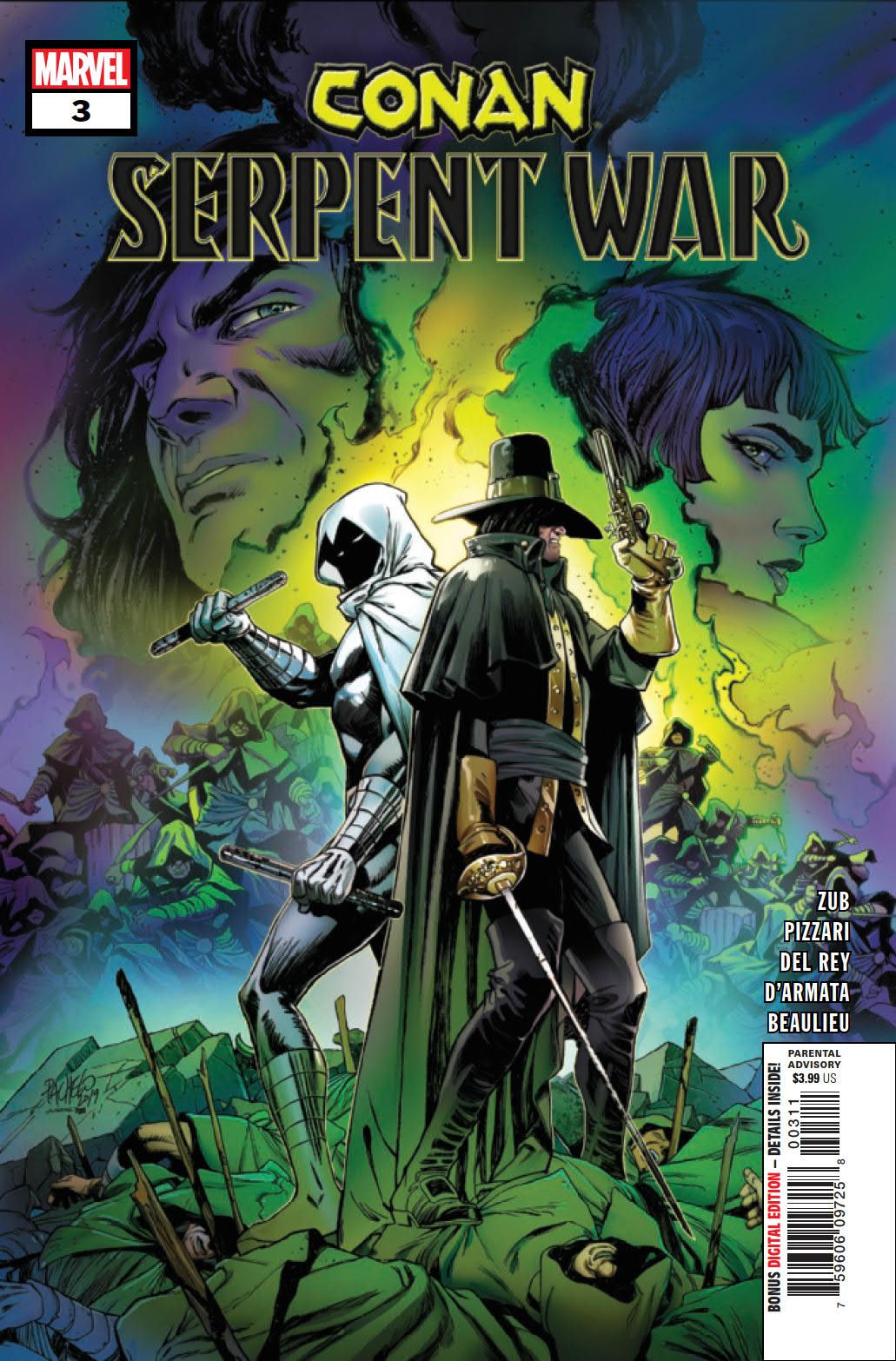 EPISODE 128:
High Priests of Khonshu Rebecca and Rey join forces to discuss the latest offering to Loonies worldwide – Conan: Serpent War #3!
There's alot of discovering along the way as the two High Priests tease out the gems which lie hidden in this LUNAR-PICK New Comic Issue…
Amongst the gems are alot of waste, so be warned, the kid gloves are off!
LUNAR-PICK New Comic Book Review
CONAN: SERPENT WAR ISSUE #3
Art by Luca Pizzari, Vanessa Del Rey
Colours by Frank D'Armata, Jean-Francois Bealieu
Letters by VC's Travis Lanham
Cover art by Carlos Pacheco
Variants – Marcos Martin, Giuseppe Camuncoli, Kim Jacinto
BARE BONES (Written by Rey):
The four fighters across space and time track down Set's relics in the hope to destroy his coming power.
James Allison and the Wyrm convene to watch and witness the likes of Conan and Dark Agnes in the Hyborian Age, along with Solomon Kane and Moon Knight in the 1500s encounter Set sympathisers and both parties succeed well in culling Set's followers.
The mysterious vessels which guide the two parties lead them to a bracelet – one in the Hyborean Age, and the other in 16th century Europe. The bracelets are to be destroyed simultaneously, and in doing so, would strike a massive blow to the God of Chaos.
James Allison is released from the etheral hold of the Wyrm and once he feels his spirit lifted, Allison can't help but acknowledge his hand in helping the Wyrm's own ends.
Back in the two time periods, Conan almost reaches the bracelet but is struck down by Satynne, Priestess of the Serpent. Elsewhere, centuries ahead, Moon Knight reaches the bracelet and it's enigmatic words from Khonshu which compel Moon Knight to put the bracelet on.
In a dazzling array of green energy, Moon Knight is seemingly whisked away to another space/time…where the real war is raging…
MOON RATING (out of phases of the Moon):
Rebecca: 🌖 – 4.5/10, Telephone Moon /Half Moon
Rey: 🌖 – 5.5/10, Half Moon/Waning Gibbous
SHOW NOTES:
WHERE TO HEAR US:
DROP US A LINE:
OFFICIAL ITK MERCHANDISE – BUY HERE!
CREDITS:
Music Written, Performed and generously provided by
ITK Logo Graphic Design by
The High Priests of Khonshu
ITK Graphic Design produced and assisted by
Co-Producers
Wayne Hunt
Josh Johnson
James Young
Executive Producers
Dustin Kurtz
Produced by
Reynaldo Gesmundo
Proud Member of The Collective
The music for this episode contains excerpts from various songs and music copyrighted by Deleter and Brian Warshaw. The music agreed for use on Into the Knight – A Moon Knight Podcast is licensed under an Attribution License;