Hello Fair Loonies!
My oh my, what a week it has been! Our humble community is gradually expanding with a growth spurt unsurpassed so far over the last week. It seems a little thing like an announcement for a TV show has really excited comic book fans and Moon Knight fans alike. I'm so glad that they are finding our community, and a note to those who have been with us a while now – please be sure to welcome all and any new Loonies into our group. Whether they are curious about the character and know little of him; or whether they have been long time fans and only now have just been exposed to ITK, please make sure to treat them like you yourself would want to be treated…we all have a common interest and goal!
As I type, our group has reached 1.1K members…which is CRAZY!! Never really imagined we'd get this big…but am super proud!
Anyway, there's a bit to cover here in this week's newsletter – first of all, next upcoming show will be a SPOTLIGHT – and for this, we thought we'd do a prelude of sorts before the ACTS OF EVIL Moon Knight Annual coming up shortly –
PHASE OF THE MOON: SPOTLIGHT
ACTS OF VENGEANCE! THE WHOLE SAGA, PLUS –
l'll be joined by fellow Loony, Josh 'Geronimo' Johnson and this should prove to be quite a fun run through. We won't go into too intricate a detail, as it would take us forever to go through it all, but we'll cover an overview of what the ACTS OF VENGEANCE was all about and how it ties into the ACTS OF EVIL event in the current annuals. The three Moon Knight centric issues should also be fun to chat about – we'll get into in depth reviews of these issues one day, but for this instnace, we'll kinda treat it like we do an OVER THE MOON Arc Review…still, for anyone wanting to learn more, we should have a good basis for which you can build on!
DISCUSSION THREAD
I'm quite eager to post a discussion thread about this and I'll be pushing for comments from you, my fellow dear Loonies! Yes, I'm sure there will be plenty to comment on, so please do not hesitate to pick up your pens (figuratively speaking) and write into us with your thoughts and points of discussion you'd like to hear on the show!
I'll leave this as a stock standard blurb from now on, for all discussion threads…click the links and read the italics below for some pointers in getting your thoughts in!
If you DON'T want your comments broadcast, please just add, "(DNB)" at the end of your comment, and we'll be sure not to broadcast it. We'll pick a few comments from here and discuss on the show!
If you aren't really a Facebook, Twitter or Instagram person, you can always reach us on any of the other platforms below –
We love hearing from you and typically your comments generate thought provoking discussion on the show and allows us to dive deeper into the issues – don't hesitate to give it a go!
THE HUNT FOR KHONSHU'S GOLDEN SCEPTRE
So, you may recall the latest episode for our serial dropped in Ep 109. It followed the progress of 'The Power of' Chad looking for the Golden Sceptre out in deep Space-Time, in the OtherVoid. He met some deities and got blasted with cosmic rays – what will happen to him next???
I've just finished editing episode 5, and it again picks up where the serial left off – this time with those two mercenary brother-in-arms, Josh 'Geronimo' Johnson and Dustin 'Cold Case' Kurtz…!
Can't wait for you all to listen, and expect it to be dropped into episode 113 of the ITK Podcast before it gets released as it's own thing a few days later.
What can you expect in the upcoming serial?
Well, the boys are still stuck in Bosqueverde after episode 3, and we see more of the cartel and underworld that both Geronimo and Cold Case have been poking at….will they find the Golden Sceptre in Bosqueverde?…or maybe another lead?…You'll just have to wait and see!
#ITKMoonKnight 2019 Fantasy Comic League – August Progress
We are heading towards the end of the maiden season of the #ITKMoonKnight Division in the Fantasy Comic League. Things are tightening up and no one's a certain winner yet!
The winner of the season will be awarded with a trade paperback of their choice and it currently looks like this –
Tommy is leading the season overall, and will need to avoid coming last to seal a victory for the season;
Rey and Connor still are in with a chance, but they require Tommy to come last AND they require to come out on top in August;
Dustin has it a little harder – it may just be out of his grasp regardless;
Chad sticks true to his fave characters…but his performance may affect the overall result (i.e if he beats Tommy this month)
Here are the current score cards for August. I'm looking OK, for the first week of August, but anything can happen int he subsequent weeks. FCL organiser, Brian, recently welcomed a new member of the family into the world, so he's understandably a little behind…but by the end of this month (only in a week or so)….we should have the final results!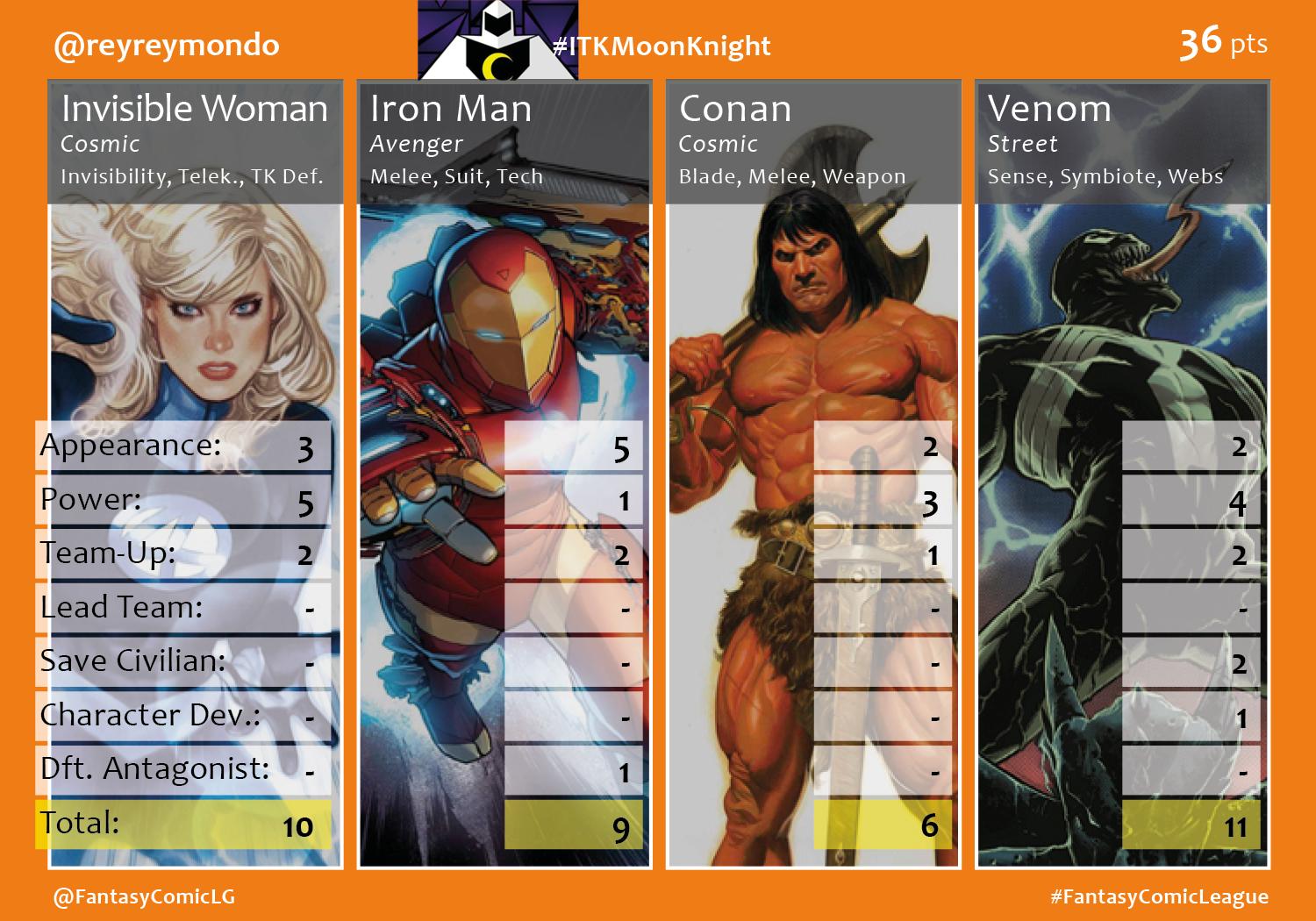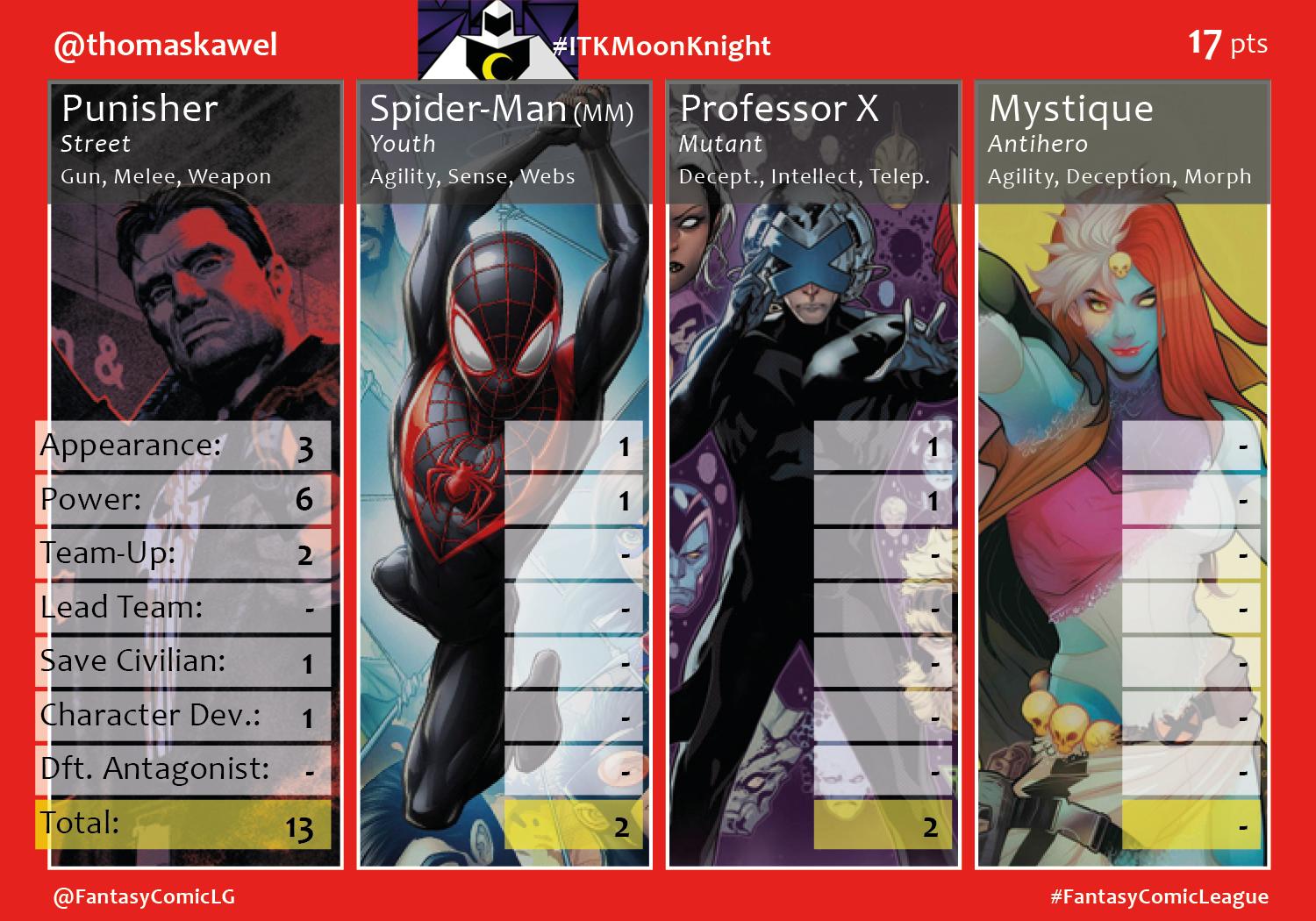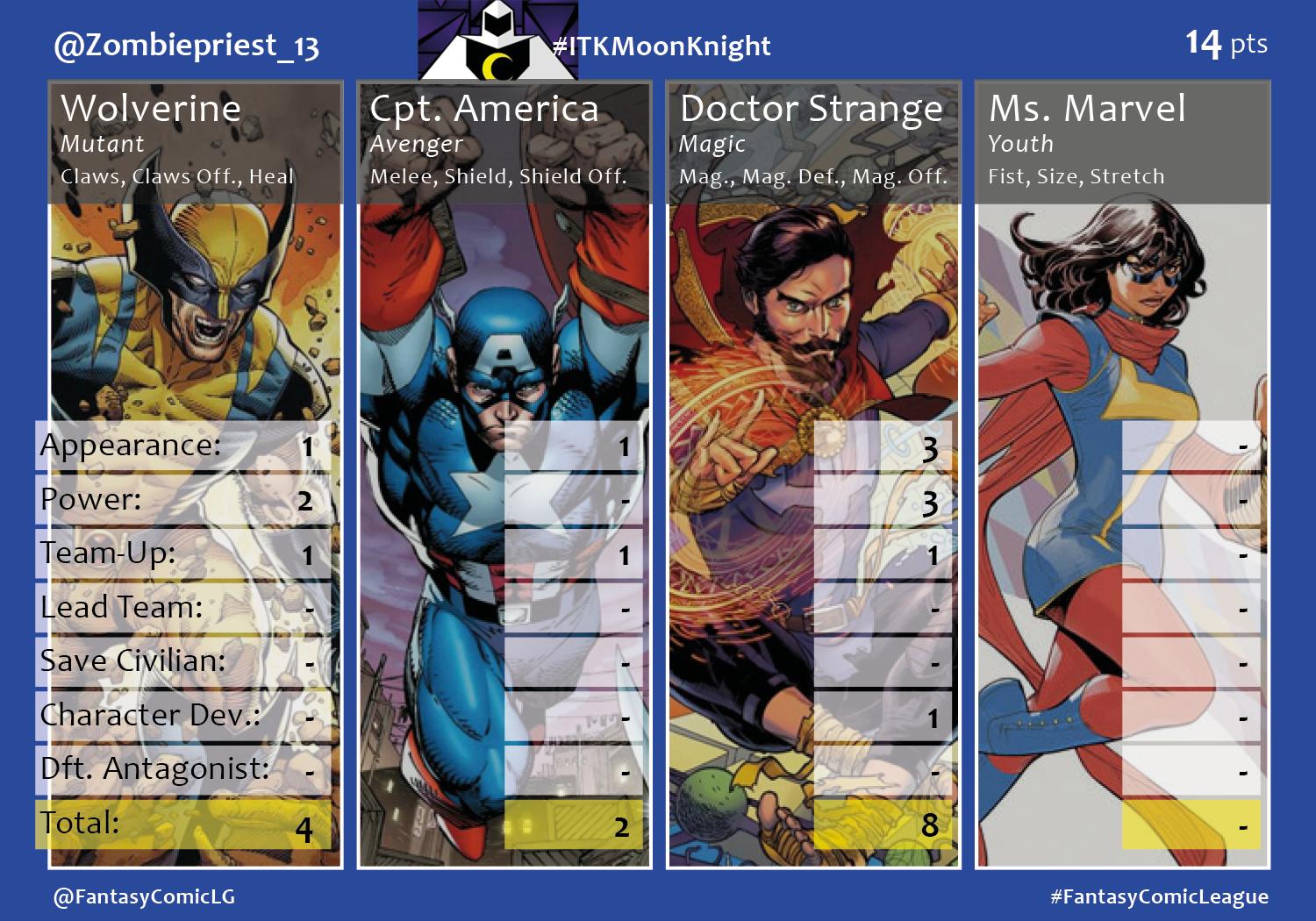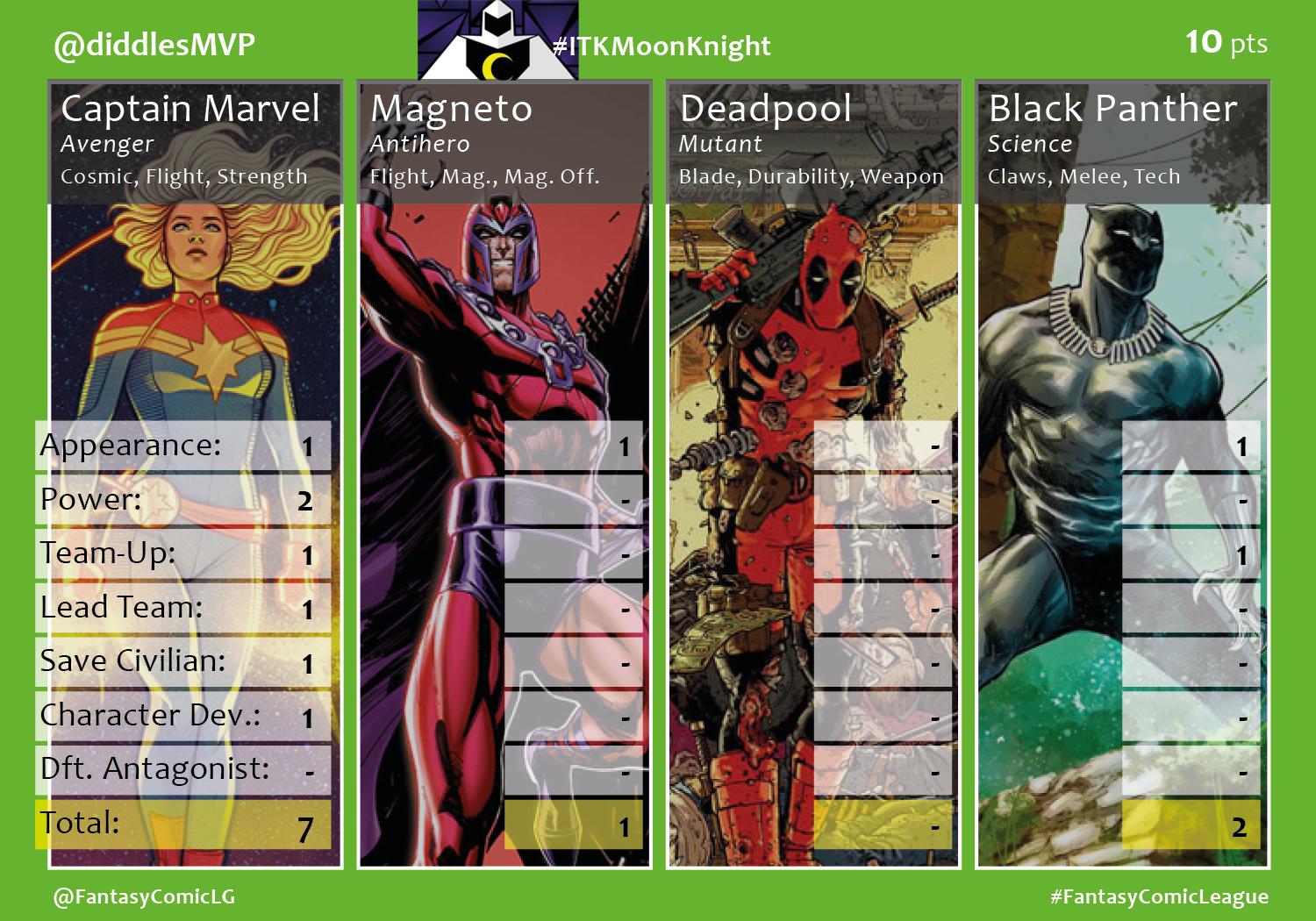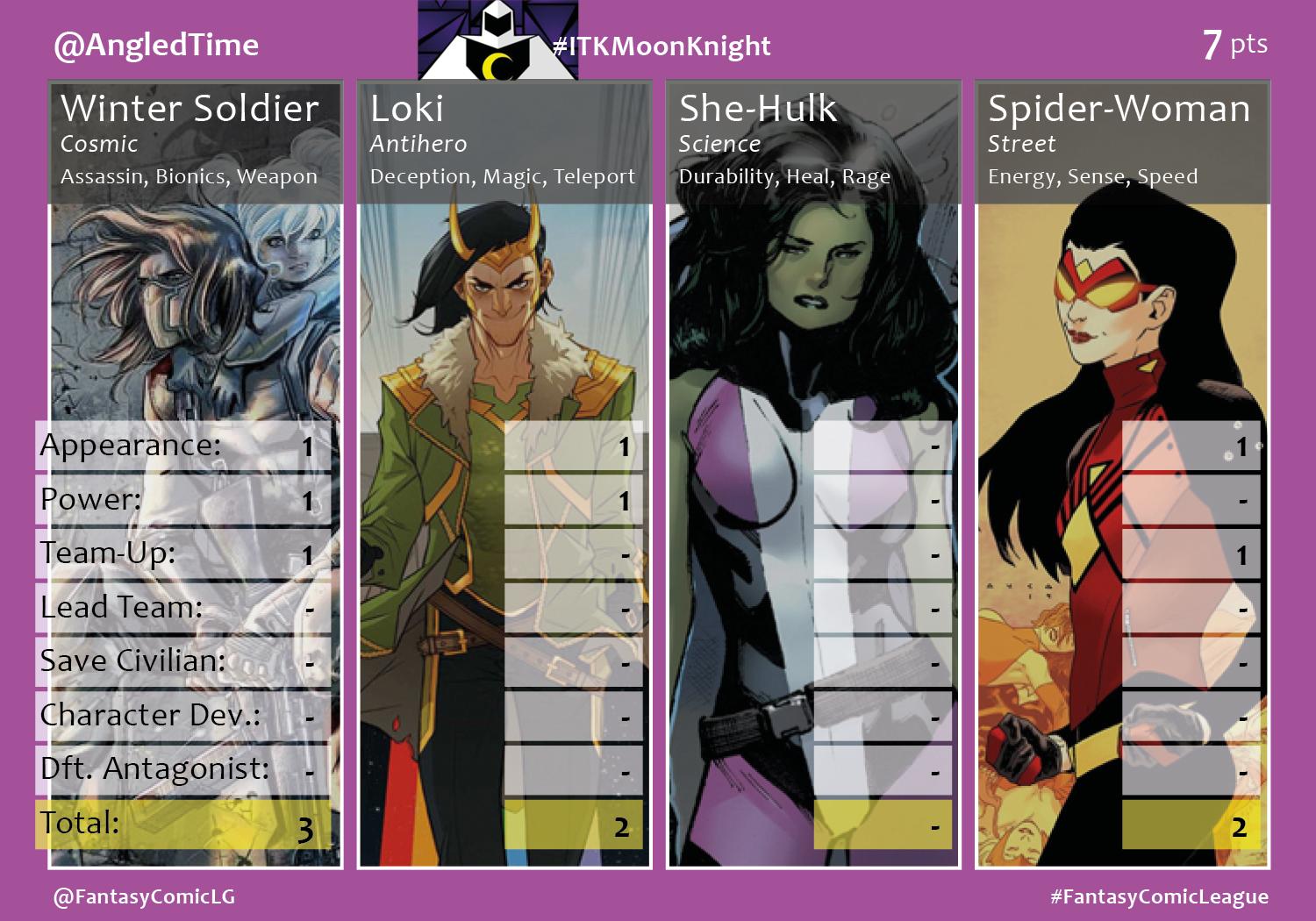 If you'd like to participate in the FCL under the #ITKMoonKnight division, please do not hesitate to contact us and we can rustle up a new squad for the new season starting in September.
Our division comprises of 5 x Loonies…
A full season goes for 4 months (new season starts September)….
Each member fee would be $16USD
Winner of the Division at end of season will also win a trade of their choice!
More info can be found here…
https://fantasycomicleague.com/
What say you? Keen to represent ITK and have a bit of fun (you certainly end up knowing more of what goes on the Marvel Universe!)
Just drop us a line if you're keen and we'll sort out the details!
GUEST APPEARANCES
Finally, keep an eye out for the Quantum Zone Podcast, if you want to hear more of my thoughts on other comics – in particular, one of my favourite cosmic heroes, Quasar!
I guest on the Quantum Zone episode #76 where we review and do a reading from What If…? #25…which was heaps of fun, even though I had my hands full with my small son, Finn! Should be out this Friday!
Also, this Friday, I'll be recording with Dave, another fellow Collective member, for another guest spot on The Signal of Doom Podcast!
We'll be looking at all that's been in the comic news over the past week, as well as reviewing some of this week's comics…AND reviewing a trade of the week (a fave of mine) – Valiant Comics' BLOODSHOT (2012) Vol. 1. Can't wait – the episode will be out by the end of the weekend too, so will complement the release of our own episode for your listening pleasure…
OK, that's a nice chunky (or CHONKY) sized newsletter right there! I'm off to read more comics…! Keep reading Moon Knight, keep in touch in the ITK community and make sure everyone can see you coming!
May Khonshu Watch Over the Denizens of the (K)Night,
Rey
Proud Member of The Collective
Remember! You can buy your official ITK merchandise at …ITK Store Front @ TeePublic