OMG, Loonies! O.M.G!!!!
Am still pinching myself but I can't believe we are approaching our 100th episode! Everyone here at the satellite ITK Ranch (Satellite…get it?… get i-..ahh!, I'm terrible! :P) is super excited, and boy oh boy, we pull out ALL the stops for the beloved Loonies out there who have stuck with us or have joined the ranks recently!
As you can see in the header above, we have a BEAUTIFUL piece of original art work supplied by one of the communities controversial Loonies, Wayne! Some of you may have heard Wayne on the show and Wayne is one to not short change his views (which is why we love him!) but he's also a man of many, many talents. As you can see from the awesome watercolours above, Wayne is a true artist in his own right – but if you think this is all he's done, then think again!!
Wayne has so graciously donated three Moony prize packs for our first ever competition on the podcast! The packs include some nifty Moon Knight comics as well as some of Wayne's art, so it's something not to sneeze at!
We'll be announcing the three winners on the 100th episode coming up, and all you need to do is email us your name and postal address, along with the answer to the following question –
"What material is Moon Knight's armour made out of, in the Vengeance of the Moon Knight run?"
You can contact us on any of the platforms as shown below, but for the competition, just drop us an email on itkmoonknight@gmail.com for a chance to win!! It's exciting to be able to offer prizes on the show and we can't thank Wayne enough for all his generosity!
So what else can we expect on the 100th episode celebrations?
We have a few 'Dear Khonshus..' which will be fun to hear throughout the show. These are basically thoughts or questions sent in by Loonies of which they'd want to ask the big Bird Skull himself…and who knows?..He might just respond!
There are also some very thoughtful wishes from friends of the show and fellow Collective members…! A big pre-emptive shoutout to you guys! We love you guys too and always get the warm and fuzzies when the love for podcasting from the podcasting community (and those that listen!) are shared!
Apart from that Loonies, I've got to keep these other segments close to my chest, but let's just say the format is very different (so just roll with it) and there will be a handful of special guests on for interviews which I hope will get you all SPECTOR-lating now! I can't stress enough that this will be a big one, so be sure to tune in and give it a listen!
No doubt the cat will be out of the bag in the episode description when it drops, but it'll be fun to keep it a secret until then at least…
I'm not sure if we'll eclipse the length of the giant episode 99 which just came out this week (i.e the ISLA RA chat with awesome Loony, Midkine!), but the 100th episode will indeed be a large episode, so make sure you make some time to nestle into a good chair and come along for the aural ride of your lives!
#ITKMoonKnight 2019 Fantasy Comic League – May Results
With May concluding, we get the first result of our community's effort amongst the Fantasy Comic League!
First of all, though, a huge congrats to Connorshu for taking out the bragging rights for our division with a well earned top score!
Tommy made a late charge and came in at second place, followed by me (Rey), 'Cold Case' Kurtz, and The Power of Chad rounding off the group –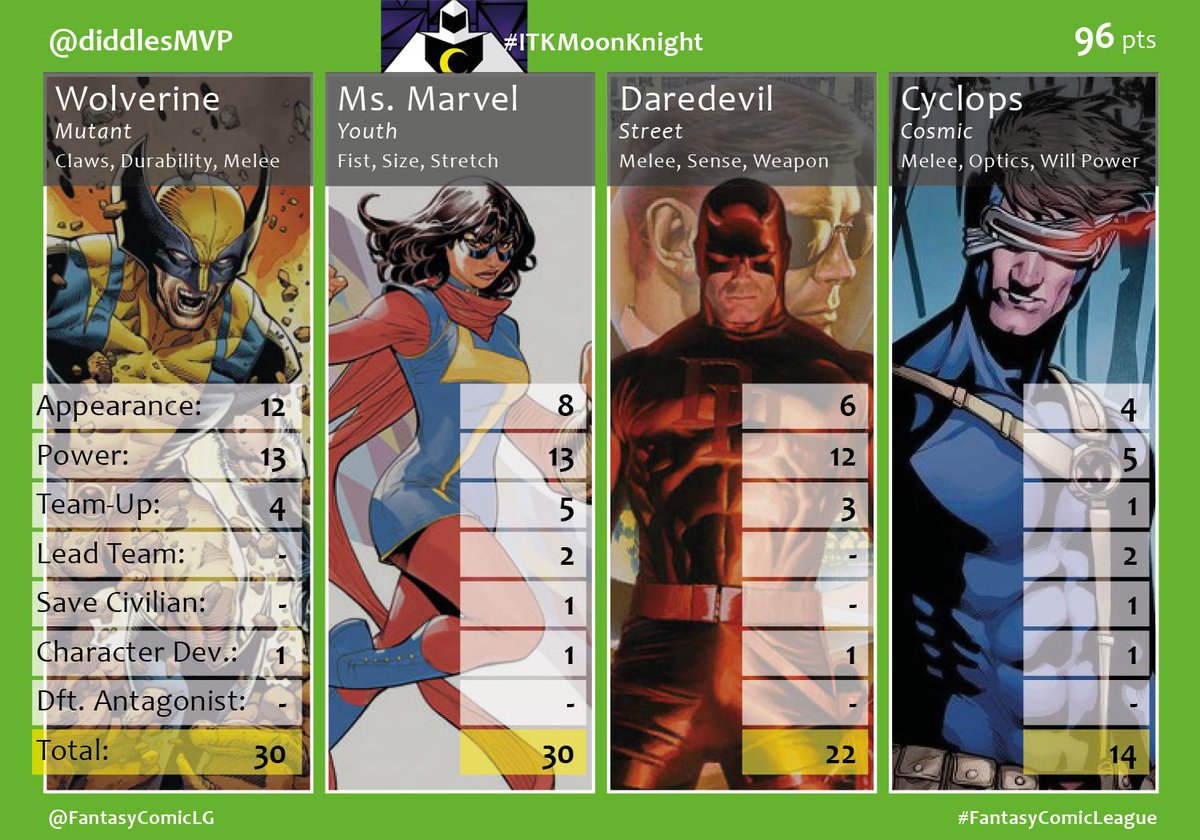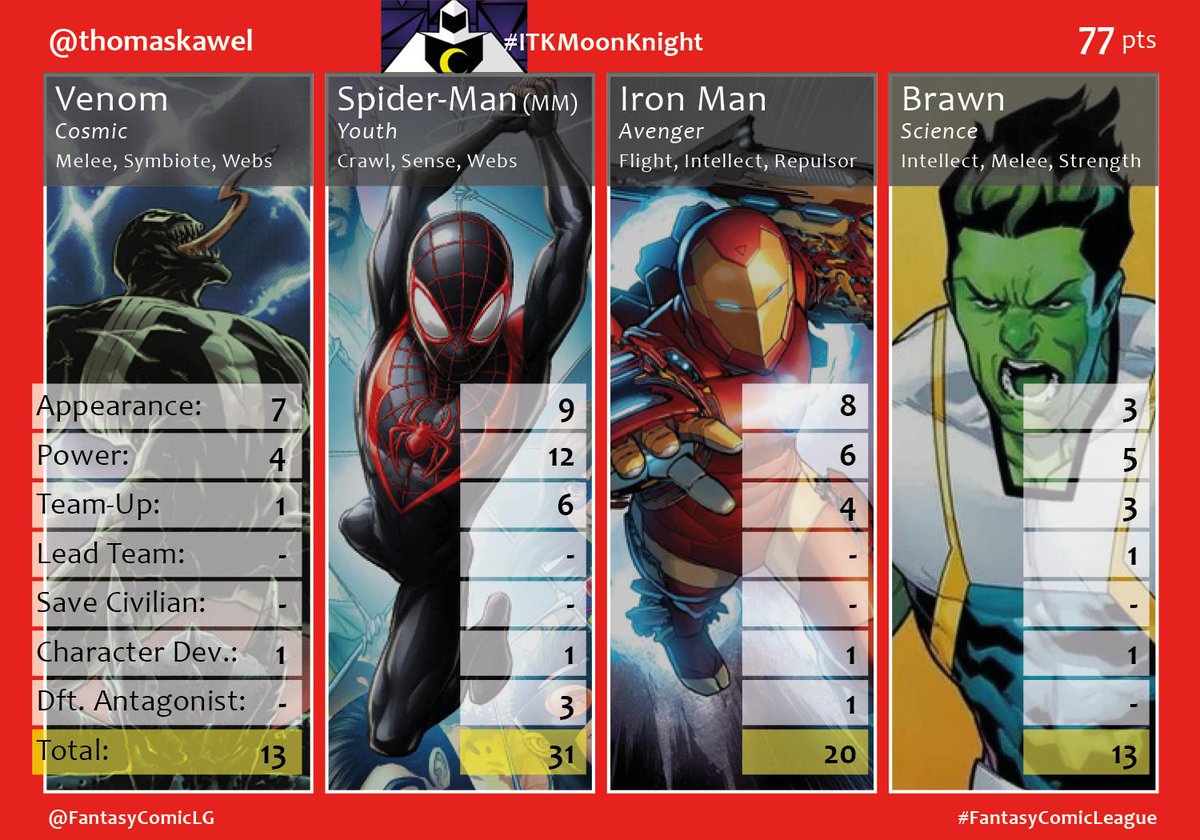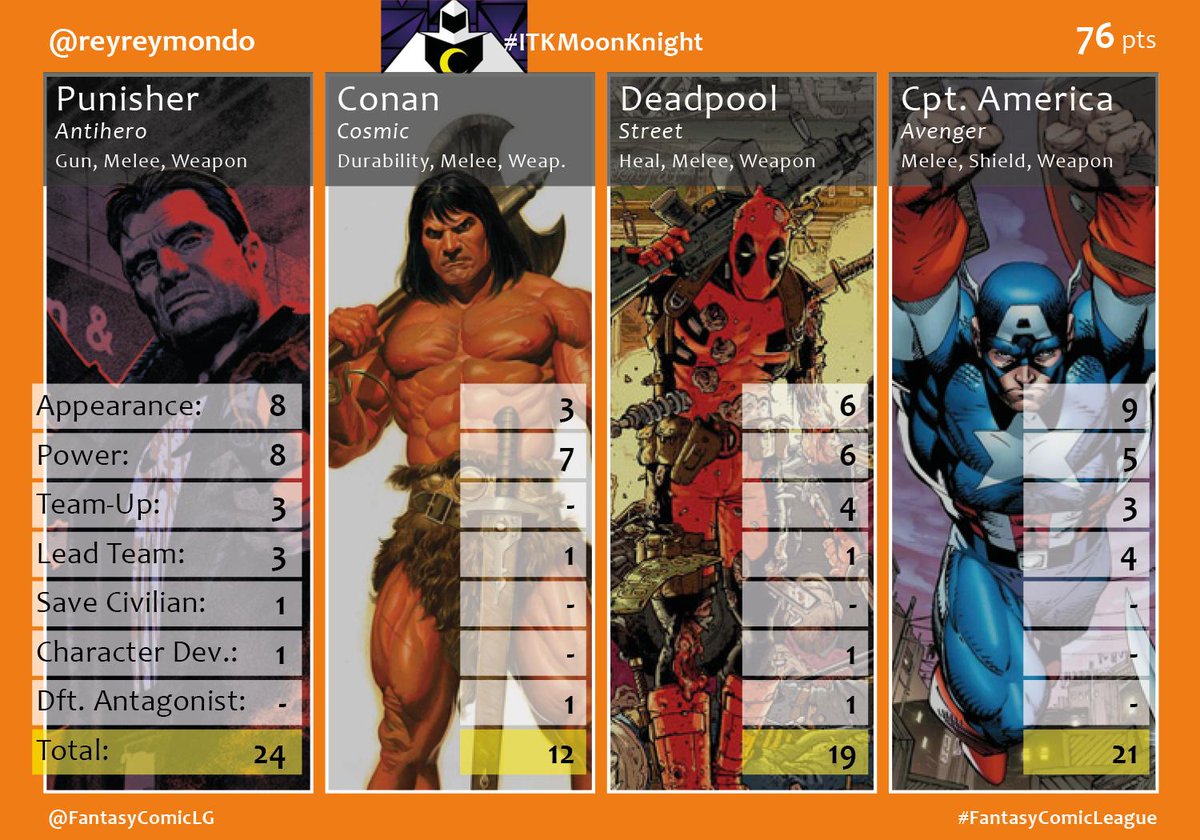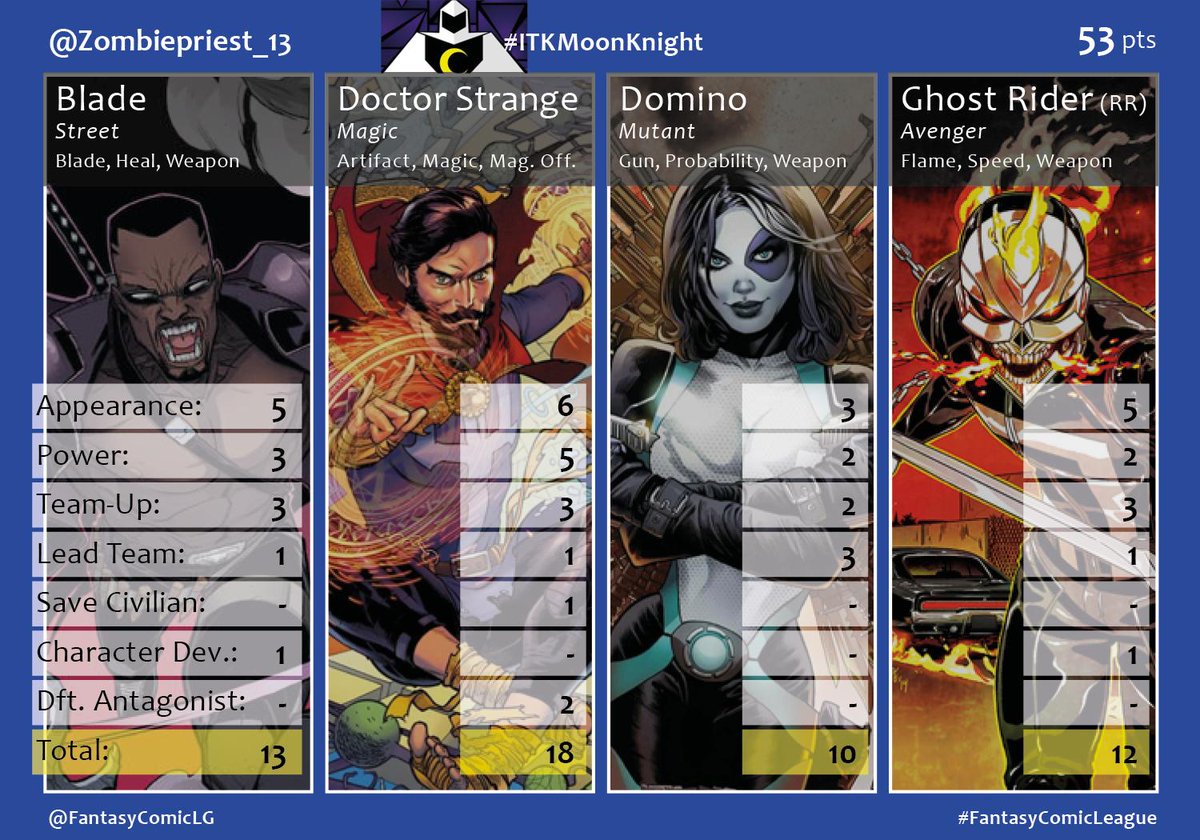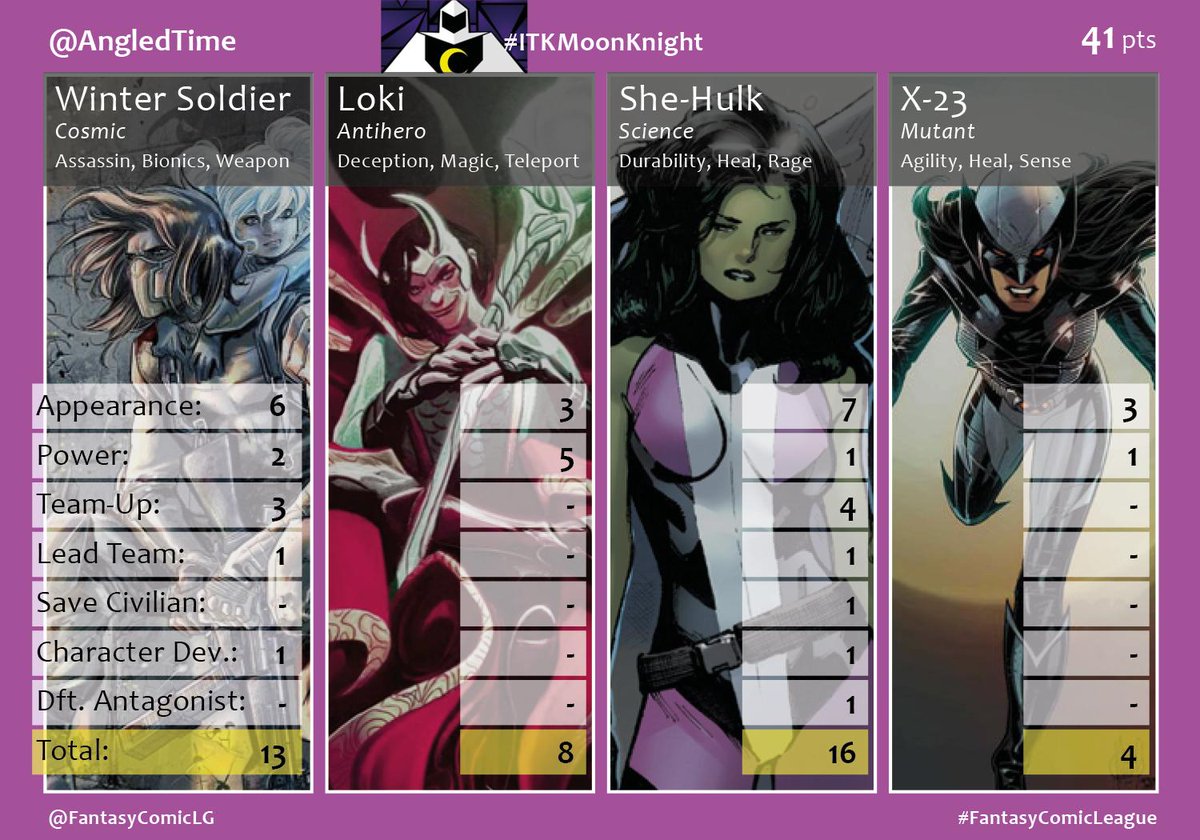 For our maiden season, our progress against the other divisions has been modest…but with three months to go, there's every chance we can climb that ladder!!
#Midtown, 393 (with Spidey as an active hero to choose)
#Asgard, 357 (w/ Spider-man ban, i.e not eligible to choose as a hero)
#RedRoom, 348 (with Spidey as an active hero to choose)
#ITKMoonKnight, 343 (w/ Spider-man ban, i.e not eligible to choose as a hero)
It would be interesting to know how many points Spidey boosts those divisions who have chosen to make Spidey a pickable character. In any case, it shows #Asgard and #Midtown as the heavy contenders! We'll get them yet!!
Anyway, better get this little sucker off to the press – very exciting weekend ahead, I hope you can join us! And please do spread the word…hopefully our Loony Army can grow with dedicated fans, or those who just are curious about learning more on Moon Knight!
Keep watching that night sky, and keep tuning in!!
May Khonshu Watch Over the Denizens of the (K)Night,
Rey
Proud Member of The Collective